RISD faculty are using a range of techniques to teach remotely. They span from practical to experimental and from low key to highly produced. What is consistent, however, is our faculty's commitment to engaging with and teaching their students. What follows are real world examples of what faculty are doing in several departments. Many of the ideas and techniques are broadly applicable across disciplines.
We'd encourage other faculty to share what they are doing for inclusion in these pages using the form linked in the sidebar of this document. Whether it's simple or innovative we want to hear about it, and fellow faculty will appreciate learning from you, too.
---
Lu Heintz, Experimental and Foundation Studies
Spatial Dynamics
Maintaining an intimate learning experience from far away.
Professor Heintz has maintained a high degree of connection with her students. This has been accomplished by using a mix of asynchronous work, small group Zoom communication, and 1:1 phone calls. A shared tumblr blog, "Experimental and Pandemic Studies" forms a meeting place and document of the course. Students post things they are making, reading and doing while engaging with course readings and materials. The matter of the course is composed of students' own memories and experiences, including the day to day experience of the current pandemic. The materials posted demonstrate how a highly intimate learning experience can be maintained, even in this age of social distancing and remote learning.
Mairéad Byrne, Literary Arts and Studies
Contemporary Poetry (39 students)
Advanced Poetry Workshop (12 students)
A robust syllabus and hybridity support resilience.
Professor Byrne writes detailed syllabi, which present all assignments upfront on the first day of class. The syllabus is more or less designed to run itself. In the current move to Zoom, there were few modifications, even with the cancelled week. Some redundancy has to be built in.
Assignments tend to be systems-based, "Even though we only had four weeks before campus closed, students had already engaged recursively with three assignments, and could continue with confidence." It helped that Byrne's courses are hybrid in terms of paper/digital media face-to-face and online. She uses Google sites for display of examples and information, and individual Google Drive folders for collection and sharing of work. Both classes depend on large and small group critique. The Old Library, with its alcoves, is perfect for this purpose but "We're now beginning break-out sessions online."
She offers a weekly Time Zone Friendly Zoom class for students in China and South Korea. This means mixing students from two courses, and can also include students making up a missed class. Teaching-and-learning has to be tailored to each individual. But the numbers are small and so far so good.
Some technologies are showing their weaknesses. Email is not an ideal delivery system for the volume of information students are now receiving. In a less impromptu online teaching-and-learning context, email would not have a prominent role. Recording classes too seems too big and bulky a step to take without consideration. The classroom is "a place of a particular kind of confidence, between students and teacher, students and each other."
The challenge now is to increase the fluidity of the online environment so that it can better support the kind of peer group learning the Old Library alcoves allow. "Students make the class, whether in the Old Library or on Zoom. That continues. Some values are reinforced: the texture and beauty of the human voice, the students' expressive faces, audio and video work. I also get to see students' written feedback to each other, which wasn't the case previously. There are useful takeaways from this experience."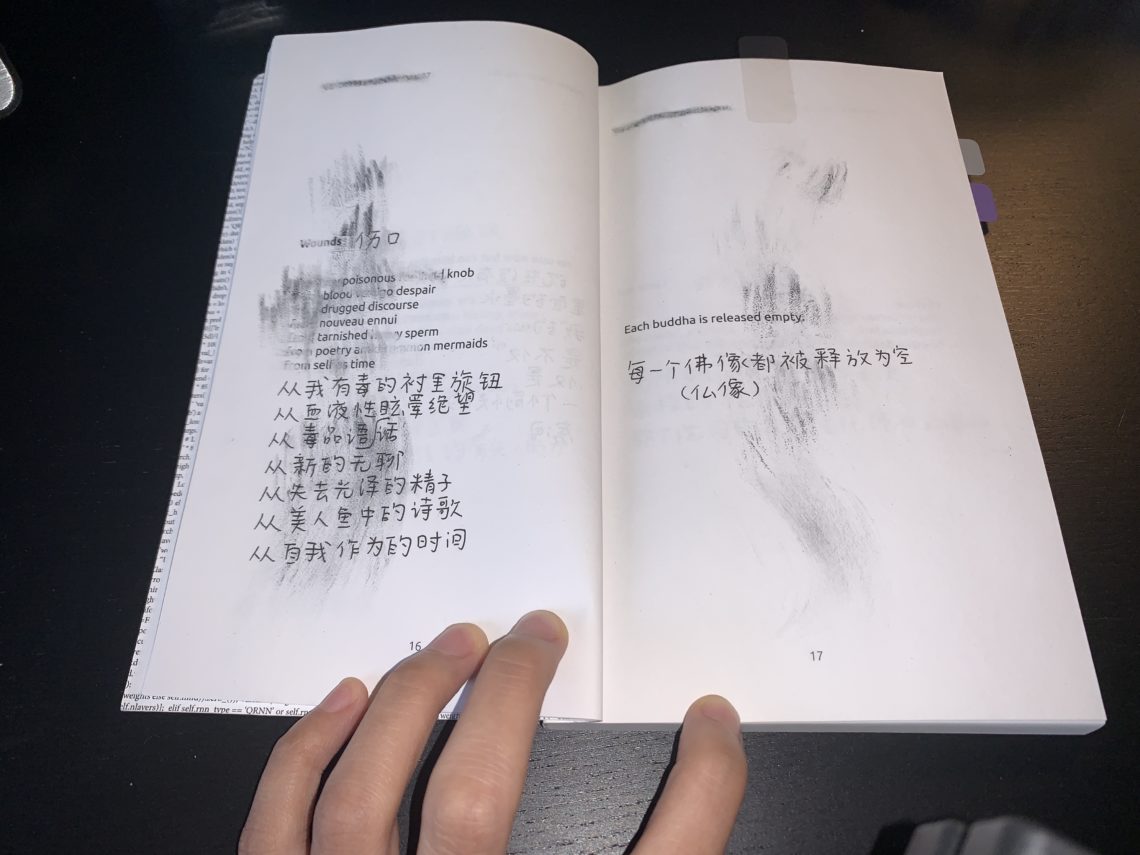 Jacob Mitchell, Colgate Searle, and Tom Kucher, Landscape Architecture
Hydrological Systems
Using technology to maintain continuity of experience

When RISD classes transitioned to remote learning, Professors Mitchell, Searle, and Kutcher prioritized continuity of student experience.
Hydrological Systems had been hands on tutorial-oriented class. Faculty still do lectures and tutorials: some are recorded as they are done live during class, while others are recorded separately as supplements. "In some ways it's better, because students can rewind and review things, they have trouble with". Otherwise the team has sought to keep homework assignments and course pedagogy consistent, focusing on mentoring students through a series of hydrological and ecological analyses.
Among the biggest challenges has been how to capture the field component of the course. To do this faculty have gone out to individual sites and created videos. These videos will be narrated by faculty during live zoom sessions, allowing for questions and interactions. Professor Mitchell has gone so far as to create a mini TV studio in his living room, complete with a background and video mixer so that he can mix multiple forms of content during live sessions, and facilitate participation by faculty who have different skill sets, for instance by using a downward facing camera to capture sketches.
One thing that has been extremely helpful are strategies the faculty already adopted to prompt RISD students that tend to be visual thinkers. "We ask students to create annotated diagrams of the readings". These diagrams that were formerly used to facilitate conversations in class are now used during zoom sessions. When asked about whether some of the innovations used would be repeated, Professor Mitchell noted that he'd be excited to teach the class in a way that leveraged the best of both remote and in person teaching.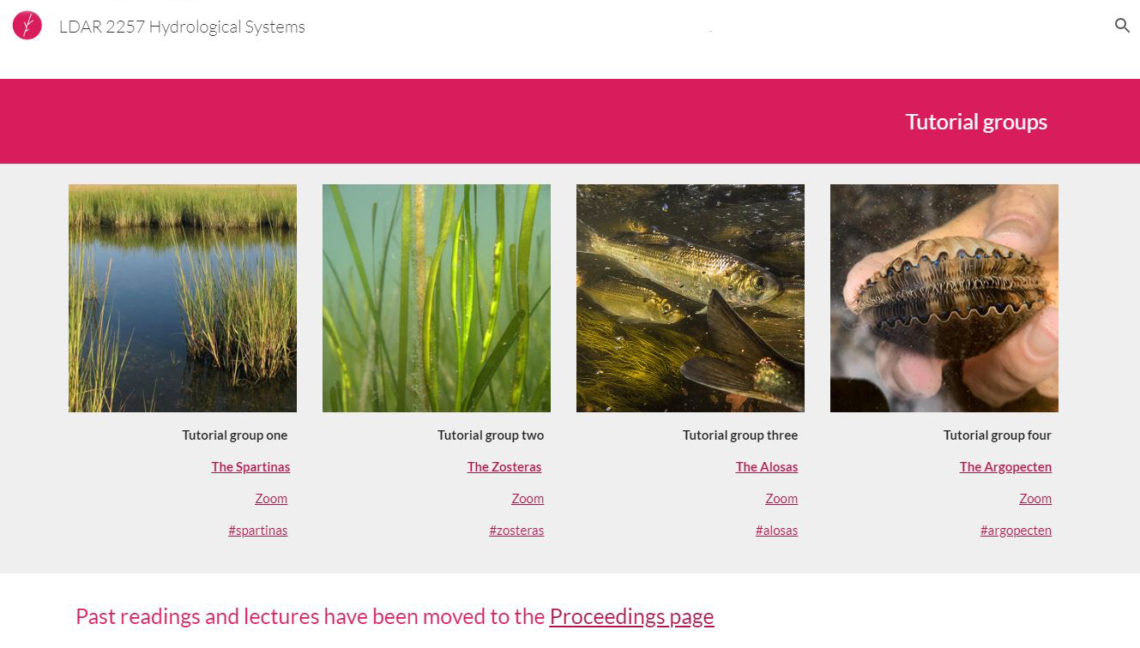 Johanna Barthmaier-Payne, Courtney Goode, and Gavin Zeitz, Landscape Architecture
Site | Ecology | Design (2nd Semester Core Graduate Studio)
Creating certainty and empowering students to work in a self-directed way.
In moving to a remote format, professors Barthmaier-Payne, Goode, and Zeitz adopted a convention used in professional practice. Professor Goode explained: "We decided to restructure the remainder of our studio's Spring assignments in this course as a Request for Proposals (RFP) process. By appropriating the RFP format we are able to provide a clear, concise list to the students of what will be due at their final review in May. We hope that having a comprehensive list of what is due in two months will relieve some stress for the students and empower them to work in a more self-directed way."
Self-directed doesn't mean alone, however. Students are paired, much as they would be on an actual project team, and the teaching staff is keeping twice weekly virtual desk critiques and guided assignments to support the RFP format. The RFP format also lends itself to standardized presentation formats and exhibits that are typically specified in professional processes, that teach the students about professional practice and simultaneously create efficiencies and predictable formats to reduce stress on the students in a time of uncertainty. Finally, the RFP format and website made to look like a true RFP call for proposals is intended to bring a bit of joy to the students in a time when they are being bombarded with disturbing news on a daily basis.
Drawing on their combined skill sets, the team created a website using a Squarespace template and obtained a custom URL to create a cohesive presentation and one stop reference for students. Interactions are being managed through Zoom and Slack. Students maintain a set of google slides to use during reviews, emphasizing iterative processes and serving as an evolving archive. A custom Instagram hashtag allows students to share work more broadly. "We have also tightened up the structure a bit so that each week will comprise one thematic module, such as 'design principles', 'design framework', 'topography', 'materials and vegetation', and so on. You can see these all on the website." All of these steps create a clear and predictable process for students to engage with so as not to add to the uncertainty and anxiety many students face.
Suzanne Mathew, Landscape Architecture
Disruptive Infrastructures (Urban Systems Core Studio)
Connecting students to stakeholders using a competition format.

Students in Disruptive Infrastructures were fortunate to having completed their site visit to Baltimore, MD before the disruption of the semester and move to remote teaching. Students were able to see firsthand how the Jones Falls Expressway (JFX—Interstate 83) disrupted urban fabric, communities, and ecologies. In making the transition to remote teaching, Professor Mathew restructured the remainder of the course as a design competition. "Much like the students would do in professional practice, they will be working in teams now to address a competition brief that is looking for a broad range of ideas for addressing this specific problem in Baltimore." Weekly milestones and submissions are managed through the course website. Working in teams allows students to support one another peer to peer.
A seemingly simple problem of creating two new connection points across the expressway is used as a lens to address larger societal questions. Students have been asked to "1) think about how intervening in one smaller spatial problem might give them a way to address bigger social and environmental issues in the city and 2) think about public-private partnerships that would allow the city to leverage their resources in order to find a way to get the projects built." One advantage of the competition format is that the projects will be evaluated and juried by community stakeholders, much as would be done in a real competition. The jurors include local designers, residents, non-profit leaders, and municipal representatives. Students will get written feedback from the jurors at the end of the semester.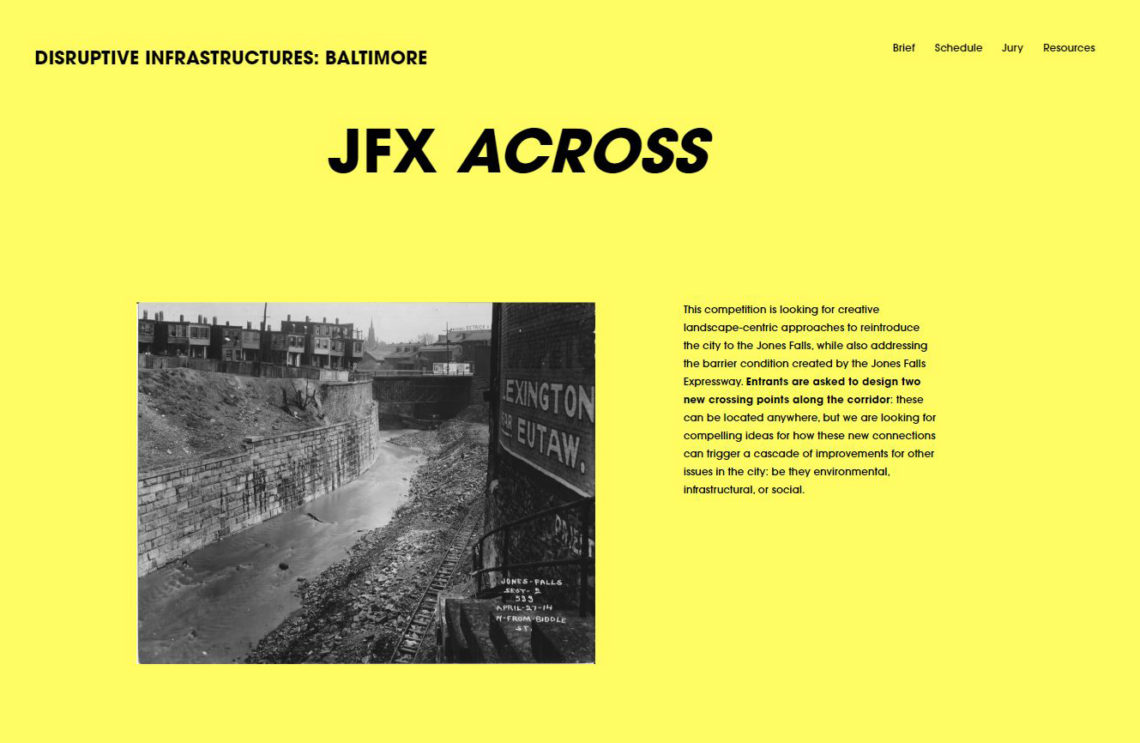 Ramon Tejada, Graphic Design
Design in Context
Sharing an online document fosters peer to peer learning
Professor Tejada has used an interactive online spreadsheet project for his Design in Context course (the example here is from Minneapolis College of Art and Design). Students each contribute 25 posts to the spreadsheet that link art historical events and artifacts to the history of graphic design. In so doing, students relate disciplinary concerns to the broader history of art and cultural considerations. The single shared space fosters peer to peer interaction and learning.
---
Bryce DuBois, History Philosophy and Social Science
Environmental Psychology of Care / People, Parks, and Public Space
Streamlining platforms to emphasize teaching and interaction
In transitioning his courses online professor DuBois has sought to minimize technical problems and learning curves by students by using a single suite of tools in the google ecosystem. "For my courses, I created 2 new websites for my 3 classes to host the readings, discussion boards, embedded videos / media and my lecture slides. They aren't really designed to be flashy. I think my approach was primarily framed by the intention to keep it simple, shift any discussion-based classroom plans to asynchronous discussion, and stay within a single app universe (in this case google) so that I can trouble shoot global access issues more seamlessly rather than choosing many new LMS's or other apps that look beautiful but may have unique limitations."
Keeping things simple and minimizing platform headaches will allow Professor DuBois to focus on combination of asynchronous discussions, zoom check ins, and emails to foster social learning. He has published academic papers addressing the topic how to best combine learning from cognitive learning from media such as online lessons and social learning that takes place from social interaction. You can read a recent paper here.

---
Jaqueline Shaw and Brett Schneider, Architecture
Architectural Design (2nd Semester Core Studio)
Modest tools and formats that let class be wherever and whenever you are.
Professors Shaw and Schneider have emphasized modest tools and formats and means of engagement that are not dependent on video conferencing. Professor Shaw began by making a simple video showing the students the tools and materials they would need. "I just did it in home office and shared with them the resources I like to have around in a simple and economic manner that allows them to not have to retool wherever home is, but pack lightly." This recognition that students may be moving or contending with changing conditions reduces stress. Everything the students need fits in a small tote bag.
Each week's classes are introduced by a short video by each section professor for their individual section (students have access to all). Students complete two 11x 17 pdfs for each week's assignments together with a weekly narrative. Process work is documented through a diary. Active correspondence for informal feedback is managed through Slack. This allows work to be completed asynchronously and avoids challenges with time zones and bandwidth.
Inspired by RISD Alumni Laura Owens' work (link to Laura Owens why11 site), the faculty are experimenting with short voice recordings paired with images as a way to introduce more dynamic way for students to engage each other.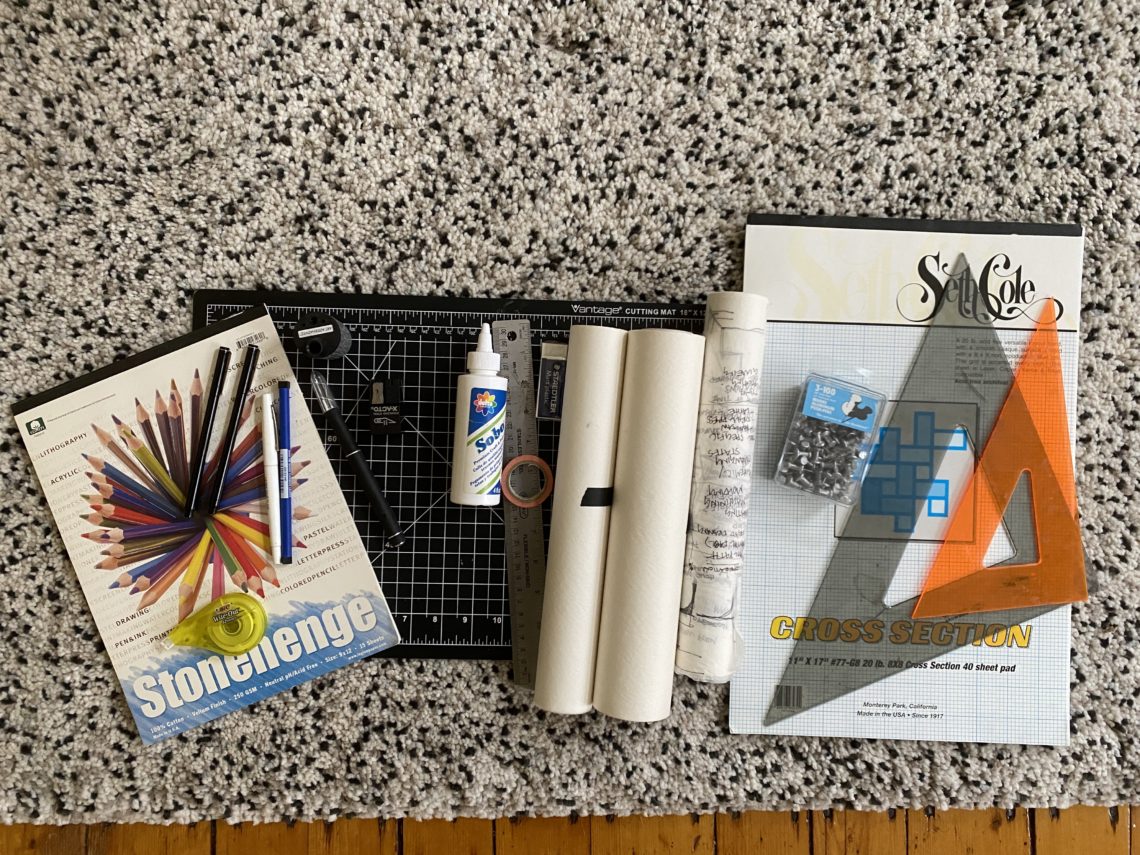 ---
Alexander Porter and Nancy Nichols, Architecture
Master of Architecture Core Studio
Innovative ways of using shared slide presentations for collaboration and critique
Professors Porter and Nichols will be using Zoom to create a virtual classroom that includes lecture, live demonstrations, and discussions. Drawing on his experience as a consultant for Google, professor Porter introduced the idea of using a single slide deck as a means of collaboration. This will allow each student to compose their own portion of the presentation while seeing what everyone else is doing. This can then be easily utilized for a shared presentation and discussion.

These approaches are augmented by a virtual textbook that contains both practical tutorials and step by step instructions that focus on necessary skills. Videos were recorded with free software (OBS Studio) and are being hosted on a hidden YouTube Channel. Videos can then be embedded in slide presentations (made in Google Slides).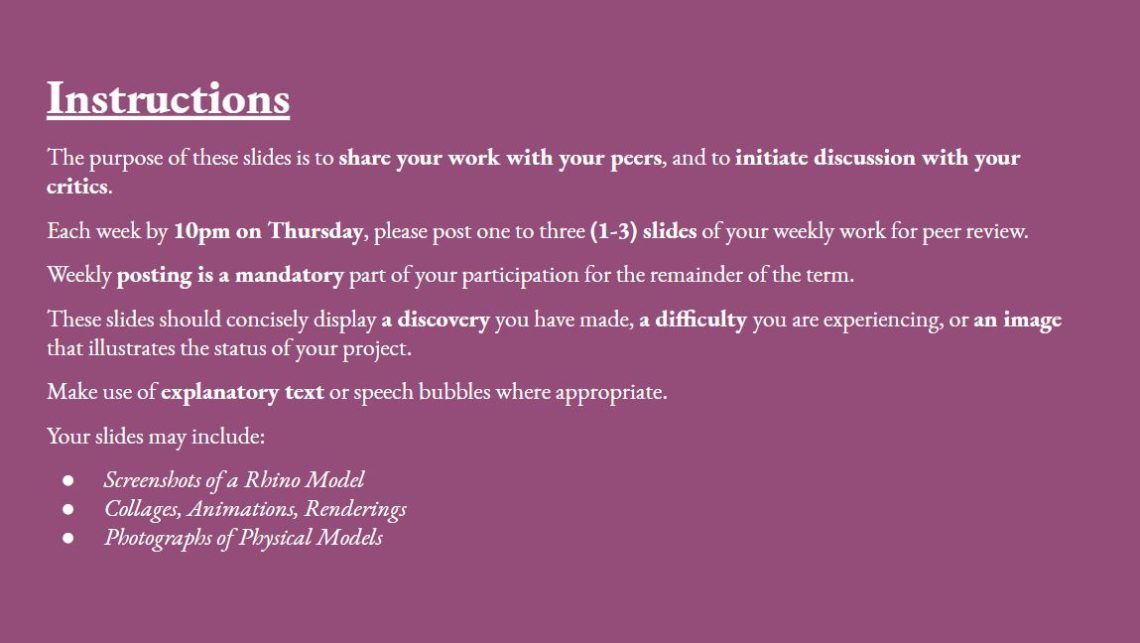 ---
Matthew Bird, Industrial Design
History of Industrial Design
Engaging content that reaches beyond RISD
Professor Bird is part of a network of teachers of history of design who are sharing content as a response to the COVID crisis. The engaging YouTube videos he creates attract viewers outside of RISD, for example this bonus content on the History of Airships that he made to share with other teachers.
Professor Bird already managed a large part of his teaching online using a Tumblr blog to manage course content and assignments (where his videos are listed). "Because I have about 100 students every Spring, I have the class "machinery" set up to handle that chaos". Students complete a weekly drawing assignment, and professor Bird encourages the combination of drawings and lecture notes. Standard letter size format is strictly enforced (not letter size = no points!). Other projects and assignments, such as a product collection, are described online and submitted by email.
---
Carl Lostritto, Architecture
Graduate Program Director
Being online as a learning objective, leveraging shared resources
Carl Lostritto regularly uses one page blogs and Instagram tags (#solidintoair, #makingdiscourse) as a public face for his courses. He notes that each tool has a role. "My general principle lately has been to clarify with students the role of each medium and to use more than one technology. Always one internal only (google drive or an LMS) then another that's on Instagram or a blog platform. I'm a big believer in inviting students to be part of posting the collective contribution of the course into the public [web] sphere. It's a really useful and I would argue necessary learning outcome." This combination of internal and external platforms fosters productive internal exchange while helping students learn to manage their own online presence.
Carl has created a raft of resources to share internally, such as instruction on how to render with the free opensource software "Blender". When RISD's studios closed due to COVID-19, The computers in a lab shared by architecture and landscape architecture were turned over to a distributed cloud computing platform. By allowing these resources to be shared the department earned render time that can now be used by students remotely with Carl's assistance.

---
Kelsey Elder, Graphic Design
Design Studio 4 (DS4), Core Studio, Junior Level, Five Sections
Graduate Seminar 2, Core Course
Maintaining a studio community asynchronously
Professor Elder teaches students from around the world and has adjusted his classes to be as asynchronous as possible to accommodate students equitably. Teaching asynchronously doesn't have to mean giving up on sense of community and peer to peer learning. "Students have been grouped up in teams to help keep the community atmosphere and to help maintain some sort of consistency. They are encouraged to meet and talk with their group as often as possible, and to set times to connect with one another outside of 'studio time'."
This has led to new and higher levels of integration in large multi-section courses. "For DS4, I made the decision to have students paired with others in separate sections — to help with time-zones. My DS4 section has students in EST [Eastern Standard Time], Honolulu, Western Australia, Korea, China, India, and London for example." Grouping students between sections allows students to collaborate with students in their own time zone.
Communications are managed through micro-websites for each class that hold course materials and Slack. "The grads were already Slack-connoisseurs… and a tight knit group given the emphasis on maintaining a grad community in Graphic Design. . . .the juniors have really leaned into it . . . sharing what they are watching on Netflix, pet photos, making Spotify playlists together, exchanging YouTube tutorials, etc. in our #studio-vibes channel."
Professor Elder is also experimenting with using Loom to make instantly sharable videos so that students and faculty can see each other's faces and reactions. "Both the grads and juniors seem to be very happy to have a way to communicate that is not via email — as nearly all of them have mentioned how burnt out they are email-wise. They are quite simply, overwhelmed."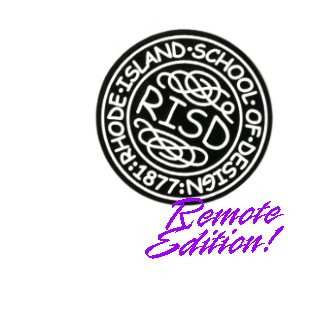 Share your Remote Teaching Strategies with the RISD Community!